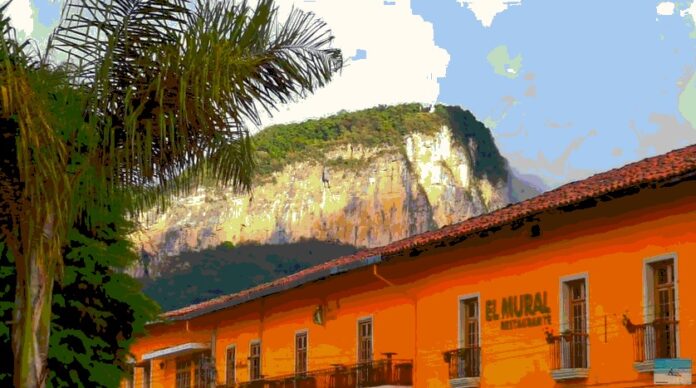 Tlatlauquitepec is the Garden of the Sierra, known for its green landscapes. Its name comes from the Nahuatl words "Tlatlahui" which means to color and "Tépetl" which means hill; that is to say "in the red or reddened hill"
At the beginning of the 16th century, Tlatlauquitepec was inhabited by small Olmec groups, later Toltec groups settled and during the expansion of the Aztec empire, the Chichimecas arrived, who went back to avoid being subjected to Mexico-Tenochtitlán.
In Tlatlauquitepec there is much to do, from strolling through its quiet historic center and tasting its exquisite cuisine to doing extreme sports on top of Cerro Cabezón. There is a variety of unique climates that goes from the cold in the southern part of the municipality, through a more pleasant temperate climate in the municipal seat to the warm climate typical of the north of the municipality.
About:
He joined the Pueblos Mágicos program in 2012.
Its name comes from the Nahua words "Tlatlahui" (to color), "Téptl" (hill) and "Co" (place), which means "hill that colors".
From pre-Hispanic times and to the present, the Plaza de Armas is home to the traditional tianguis, where typical products of the region are sold. From there you can appreciate the magnificence of Cerro Cabezón, a formation that contains legends and natural beauties.
Attractions:
Former Convent of Santa María de la Asunción
Main square
Cerro Cabezon
Church of the Sacred Heart of Jesus
Sanctuary of the Lord of Huaxtla
Dam of loneliness
Puxtla waterfall
Tenazate Waterfall
Xiliaco Springs
orchid cultivation
Gastronomy:
Tlacoyos stuffed with beans, alverjón, potato and broad bean
Chicken and smoked meats
Coffee
Traditional fruit wines
Ranchero style mole
Typical sweets
Holidays:
Cerro Rojo Festival, is celebrated in March and has artistic and cultural activities, a meeting of prickly pear producers and native dances.
Virgen de la Asunción, is celebrated on August 15, with a contest for the best tuberose flower; there is a fair, cultural events and sale of handicrafts and snacks.
Location:
This municipality is located in the northeastern part of the State of Puebla. It borders to the North with Cuetzalán del Progeso, to the East with Chignautla, Atempan and Yaonáhuac, to the South with Cuyuaco and to the West with Zautla, Zaragoza and Zacapoaxtla.
Source: SECTUR