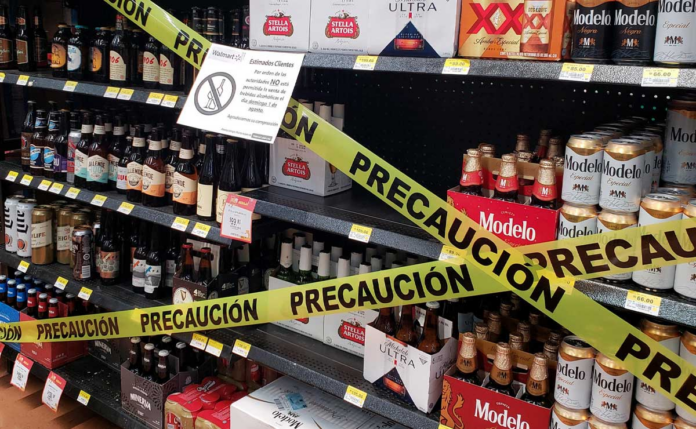 These are San Pedro and San Andrés Cholula, Acatlán de Osorio and Venustiano Carranza.
There will be four municipalities in the state of Puebla that will apply the so-called Dry Law this weekend, on the occasion of the popular consultation to revoke the mandate.
The head of the Interior, Ana Lucía Hill Mayoral, declared that it is San Pedro Cholula, San Andrés Cholula, Acatlán de Osorio and Venustiano Carranza, who have decided to prohibit the sale of alcohol on Saturday, April 9 and Sunday, April 10.
"There are four municipalities that have announced the Dry Law," he reported during the virtual press conference on April 8.
A few days ago, the state governor, Miguel Barbosa Huerta, ruled out issuing a decree for the application of the Prohibition Law on the occasion of the April 10 consultation.
He said that since it was not about elections, prohibiting the consumption of alcoholic beverages would be the decision of each of the 217 municipalities.
Why will there be no dry law in Puebla?
The municipal president of Puebla capital stressed that the Dry Law will not be applied, since he does not want to affect the economic reactivation. This, since after two years of the Covid-19 pandemic, many businesses were affected and there were very large losses. However, he stressed that, although no actions will be taken to inhibit the sale of alcohol, security on the streets will be increased.
He stressed that throughout the capital it will be ensured that this Popular Consultation is carried out in an orderly and calm manner. Likewise, he said that there will be security forces and elements will come promptly to provide support, if necessary, to the places where the electoral authorities request it. Similarly, he pointed out that a decree will not be issued that a preventive operation will be implemented.
It is worth mentioning that yesterday, Thursday, April 7, the City Council of San Andrés Cholula reported that there would be no Dry Law.