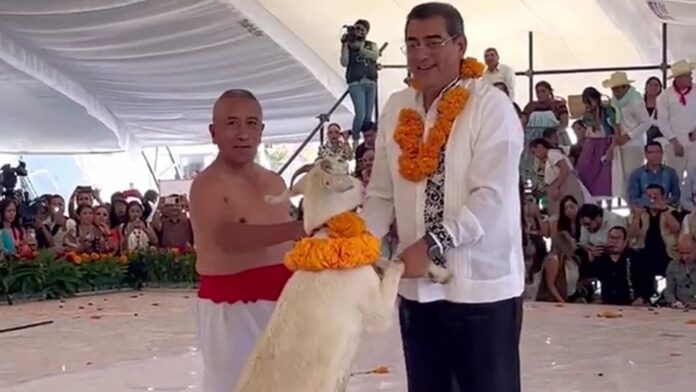 The festival is celebrated annually from the third week of October and lasts until November. One of its best-known traditions is the Dance of the Slaughter, in which they dance with goats that are later sacrificed.
For this year, the Mole de Caderas season is expected to leave an economic impact of 100 million pesos, with the visit of thousands of tourists attracted by this traditional dish and other Puebla gastronomic delights, such as mezcal, muéganos, chapulines, chinicuiles and chicatanas.
During the inauguration of the celebration, Céspedes recognized mole as a dish reflects the gastronomy and highlighted as an example of the culinary richness of Puebla.
"The mole is a dish that allows us to know the authentic value of our cuisine, due to the gastronomic mix and the combination of flavors. This New Spain tradition that has its origins in the 17th century has transcended the barriers of time to become an icon of our community," highlighted the governor.
It is worth mentioning that on October 18, the state president issued a decree by which the hip mole was declared intangible cultural heritage of Puebla. With this name we seek to preserve and promote this Mixtec dish.
What is hip mole?
The main component of hip mole is goat meat prepared with a mixture of chili peppers. The recipe for its preparation is Mixtec and dates back several centuries.
Its ingredients are goat hip and backbone in pieces, green beans, tomato, tomato, cilantro, onion, avocado leaf, red gourd, costeño chili, guajillo chili and garlic.
Traditionally this mole is served with chopped cilantro and onion. Some people also accompany it with lemon.
According to a recipe compiled by the National Institute of Indigenous Peoples in the cookbook "Yachiky! Mixtec cuisine, cook with love, hip mole is prepared like this:
1. The hip and backbone are cooked with the onion and garlic.
2. In a different pot, cook the green beans.
3. The tomato and chili are boiled together; They are then ground and fried.
4. To the previous fried mixture, add the broth, meat and green beans with the water in which they were cooked.
5. The gourd is lightly roasted to achieve greater flavor, liquefied and added to the mole.
6. Season the preparation with the avocado leaf and add salt.
The tradition of mole de hips is shared by the inhabitants of the Mixteca region, which covers three states: Oaxaca, Guerrero and Puebla.
In that sense, Tehuacán, Puebla, is not the only destination where you can try this traditional dish with centuries of history. If you visit Oaxaca you can try other dishes such as clove mole, goat legs in beans, fried udders, chicharrón de chivo, Menudo, barbacoa, goat eskimole, chito mixiotes and chito goat
Source: Infobae