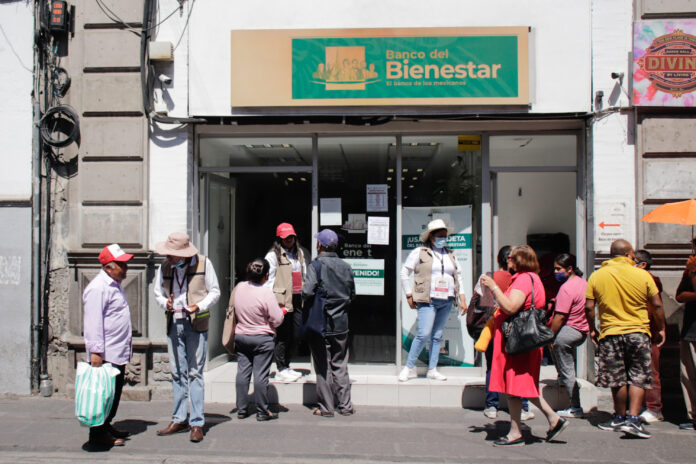 They spend hours in the sun, rain, cold, to withdraw their money from the Bienestar Banks 
Puebla, Pue. – Every bimester seems to be a never-ending story and this time it happened again, since the Bienestar Banks in the city and the interior of the state look full, and the elderly spend hours until they can collect their money.
In a tour of its Municipal Portal in the Centro branch and the one located in Plaza Norte, near Plaza San Pedro, it was possible to verify that it was even 4:00 p.m. and the line to access the bank was endless.
The biggest problem that always arises is that the Bienestar Banks only have a maximum of two people to deliver the money and most of them do not have ATMs to make the withdrawal.
In addition, adults decide to stay in line because if they want to collect their pension at any other branch, they are charged at least 30 pesos or more.
On this occasion, the situation of the delivery of the pension granted by the Federal Government had another problem, the lack of money in some ATMs caused the beneficiaries of the program to wait for up to 11 hours.
This situation causes the grannies to come to make line from very early, at 07:00 to be the first to pass.
So, this is the ordeal of every two months of the elderly people who go to collect their pension from the Bienestar Banks, who have to be alone for long hours, in the rain or in the cold.
Source: Milenio