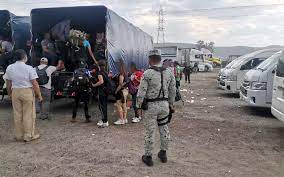 (CNN Spanish) — Mexican authorities found more than 300 migrants who were being transported in two trucks in overcrowded conditions in the southeast of the country, the National Institute of Migration (INM) reported this Sunday.
In a statement, they indicated that these were two different incidents. The first occurred at kilometer 150 of the Orizaba-Puebla highway during a verification operation when the driver of a tortón-type cargo truck was told to stop, which in turn was accompanied by a white van.
When the review was made, they found 107 foreigners from Guatemala, Honduras, El Salvador, Cuba and Nicaragua, who "could not prove their regular stay" in Mexico. The INM indicated that there were 37 adults, 20 unaccompanied minors, as well as 21 family units made up of 50 more people.
The six people who were transporting them and those who were guarding them in the other vehicle were turned over to the Office of the Attorney General of the Republic. CNN is trying to find out if they have legal representation.
In the second incident, agents detected a tractor-trailer improperly parked on a road near Fortín de las Flores, also in Veracruz, and when it was inspected, dozens of people were found inside who "reported being foreigners without being able to prove their regular stay in the country".
The authorities confirmed that there are 196 migrants, including five adults from Guatemala and another five from India. Some 19 were unaccompanied minors, while the remaining 167 were made up of 70 family units.
The unaccompanied minors and their families were referred to the System for the Comprehensive Development of the Family (DIF) and the Office of the Attorney for the Defense of Minors in Veracruz was informed, while the adults were transferred to INM offices to "carry out the procedures corresponding migrations.
In this second case, no one was arrested, and the tractor-trailer was made available to the corresponding federal authorities.
Source: CNN Español