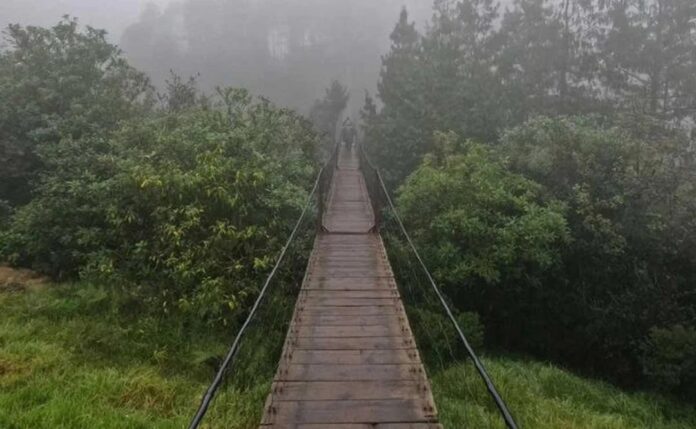 Forests provide us with endless benefits and in the state, you can visit them, admire them and take care of them
If you need to disconnect from the city, from the noise, from worries, the best option is to go to a forest.
There are even people who believe that hugging a tree or being in contact with nature has healing benefits, as they help calm anxiety, depression, and other types of disorders.
Forests provide us with endless benefits and in the state, you can visit, admire and care for them. Here we leave you the four most impressive and beautiful.
1. Sierra del Tentzo State Reserve
Located in Molcaxac, one hour and ten minutes from the city of Puebla, is this beautiful forest.
It has 57 thousand 815 hectares where you can admire waterfalls, canyons, and caverns.
According to the website programadestinosmexico.com, within the reserve there are more than 91 species of medicinal plants, 18 species of mammals, 153 of birds and 21 of amphibians and reptiles.
Likewise, there is a mountain range that rises up to 800 meters and here it crosses the Atoyac river basin, one of the most important in the state.
2. Honey Forest
In the municipality of Honey is a true paradise. Here there is an Ecotourism center called Cascadas Paraíso, where you can enjoy a truly magical forest. Its main attractions are its waterfalls, wooden bridges and its beautiful trails surrounded by mist.
Some of the activities you can do in the area are zip lines and hiking; You can even stay camping in their camping area and spend a night surrounded by nature.
3. La Malinche National Park
La Malinche National Park is located between the states of Tlaxcala and Puebla, without a doubt it is one of the best places to be in contact with nature.
According to the Ministry of Environment and Natural Resources, the park has an area of 45,711 hectares and is the habitat of a wide diversity of fauna (937 species and dozens of them endemic).
Its most representative vegetation includes high mountain forests, oak, oyamel, grasslands and induced vegetation.
This area has a vacation center with cabins, recreational facilities, and a camping area.
4. Flower of the Forest
Believe it or not, in the capital of Puebla there is one of the most beautiful and well-kept forests. Located 10 kilometers from the center of the city of Puebla, is this protected nature reserve.
It has an area of 1,501.67 hectares and is specially designed for nature and adventure lovers.
It has a contact farm, a theme park, a camping area, cabins, as well as an area for rappelling, skateboarding, gotcha and mountain biking.
Flor del Bosque is home to representative species of the area such as the white-tailed deer, the woodpecker, the llanero huico or the canyon violet.
Flor del Bosque is in Carril a San Bartolo, Colonia Casa Blanca, former Hacienda San Bartolo Amozoc de Mota.
Open from 8:00 a.m. to 6:00 p.m. Admission is free.
Source: El Universal