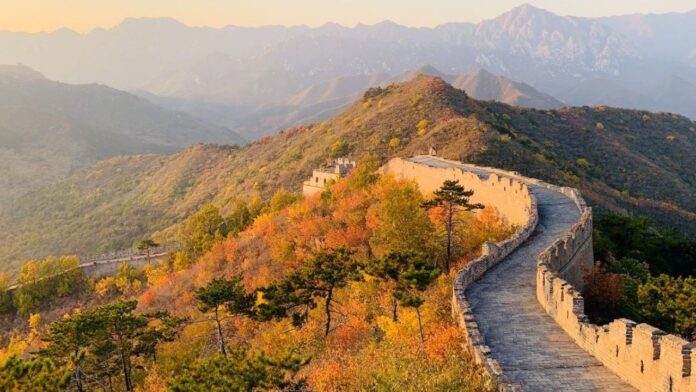 Among the best-kept treasures in Mexico is Xicotepec, a hidden magical town in Puebla that houses the "Muralla China Mexicana", a 1,400-meter architectural piece that resembles the Asian work, surrounded by mountains and coffee plantations.
Xicotepec is considered one of the most beautiful Magic Towns in Puebla. Here, in every corner, you can breathe the aroma of freshly ground and prepared coffee, morning, afternoon, and night. It is a paradise for lovers of this drink, it is always drunk, regardless of the weather. In every street you will find a cafeteria, just pay attention to your sense of smell, and let yourself go.
Beyond the sensations that coffee arouses in each person, Xicotepec has a particular tourist attraction: the "Mexican Chinese Wall".
This imposing structure that is similar in architecture to the Asian one, though not in distance, is open to the public. At the end, it shelters "La Cruz Celestial" viewpoint, known as this for the cross of more than 50 meters in blue that is located at the top. A glass floor adds adrenaline as it provides the sensation of being suspended on the mountain, as if you were on a cloud. From here you can see the entire town and the sierra poblana.
Val'Quirico: The "Mexican Tuscany"
To get to the Xicotepec viewpoint, at the top of the "Mexican China Wall" you must climb 750 scattered steps on a winding path, an effort that few achieve, but the view is well worth it. The journey to the top is an adventure that is adorned with imposing mountains of exuberant vegetation.
Being a coffee town, in Xicotepec you can live the experience of seeing the harvest and grinding of the beans on the farms. The aroma fills the streets and invites you to enjoy a coffee in all possible variants while enjoying the colorful houses and shops.
To walk through Xicotepec and the "Chinese-Mexican Wall", you only need comfortable shoes, sunscreen, a hat, a lot of energy and good physical condition, since the adventure demands it and will be unforgettable.
Source: Forbes