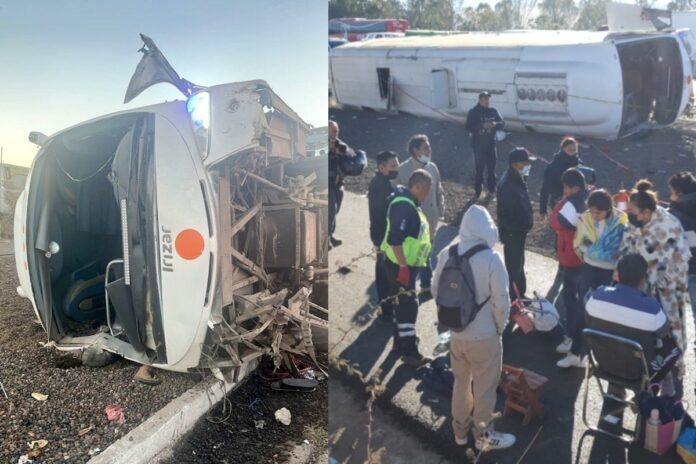 Three dead and at least 20 were injured in the preliminary balance of an overturn on the Mexico-Puebla highway.
The accident was registered this Sunday morning, at kilometer 39, towards Mexico City, where a bus with pilgrims overturned on a brake ramp.
At the scene, pilgrims from Ajalpan, Puebla, were traveling to the Basilica of Guadalupe in Mexico City.
#CirculaEnRedes #ULTIMAHORA

Voladura de autobús, peregrinos iban a la Basílica de Guadalupe en el km 39 de la autopista #México–#Puebla, tres personas fallecidas y 21 lesionados. pic.twitter.com/RYX3F8d7bT

— Arturo Suárez R (@arturosuarez) February 5, 2023
Six injured people, including two minors, were taken from the emergency room to the traumatology hospital "Dr. Victorio de la Fuente Narváez", in helicopters of the Relámpagos Group.
Three other people who were traveling aboard the unit lost their lives at the scene of the accident, according to first reports.
Due to the operation to deal with the injured during the accident, traffic on the Mexico-Puebla highway remained closed in the direction of Mexico City for several hours, causing a massive traffic jam.
Source: 24 horas