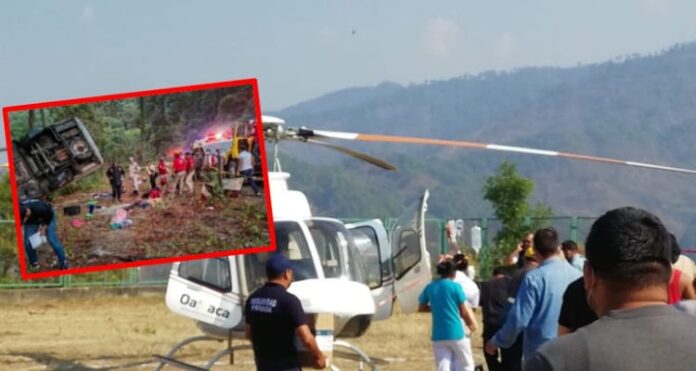 A tourist bus that departed from Puebla and headed for the beaches of Oaxaca had an accident early Friday morning after making a stopover in Juquila. In the incident, 8 people died and 26 were injured, including men, women, and children.
Through a statement, the state Ministry of the Interior (Segob) reported that "it will provide all the necessary support to the victims" after the unit in which they were traveling suffered a rollover at the height of the place called "El Carrizal", of the Río Grande-Juquila, in Oaxaca.
The agency indicated that the instruction to help those affected was from Governor Miguel Barbosa Huerta, so the seriously injured will be transferred to Puebla by air ambulance.
The Ministry of the Interior indicated that eight people lost their lives in the fatal accident. Meanwhile, 18 people have already been transferred to the state of Puebla by land, which respond to the name of:
Carlos Huerta-Mena
Salvador Huerta Marin
Maria Isabel Marin Alonso
Maria Guadalupe Huerta Marin
Belen Perez Garcia
Esperanza Garcia Martinez
Guadalupe Barranco Carpio
Jose Sergio de la Cruz
Carlos Antonio Huerta Marin
Nanci Joselin Romero Garcia
Mareli Guadalupe Hernandez Garcia
Brian Hernandez Garcia
Cecilia Sebastian Ponce
Osvaldo Garcia Ponce
Isabel Ponce Tamayo
Rebeca Guadalupe Munoz Ponce
Dulce Yamilet Rodas Ponce, 6 years old
Enrique Yael Muñoz Ponce, 2 years old
Added to the above lists are the people who remain hospitalized in the Community Hospital of Santa Catarina Juquila , in the state of Oaxaca:
Ariel Rhodes Munoz, 9 years old
Ricardo Antonio Rhodes Garcia, 34 years old
Roman Perez Velasco, 51 years old
Cecilia Ponce Tamayo, 55 years old
Also, given the seriousness of their injuries, four people were sent by air or land to hospitals in Oaxaca.
The Puebla government pointed out that there is a detained person due to the incident, who goes by the name of José Luis "N", 70 years old and worked as a driver.