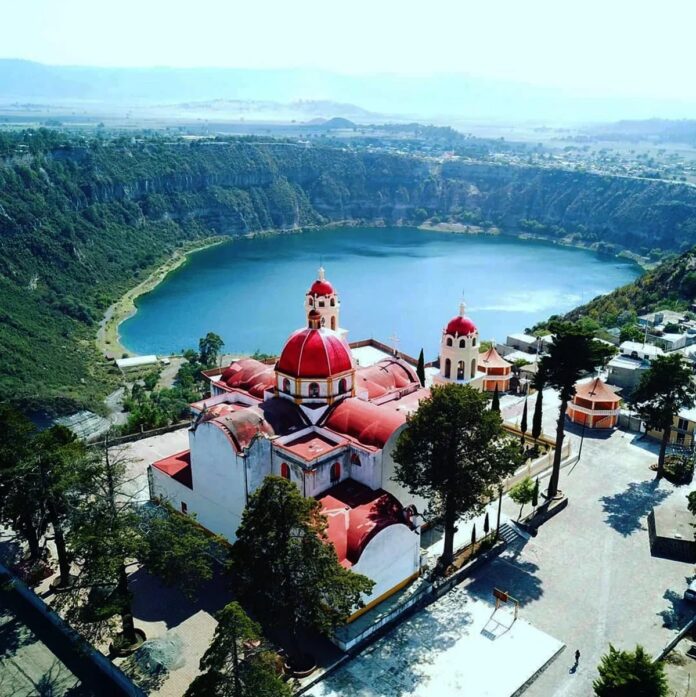 Yes, maar in Puebla! And no, it's not a spelling mistake. Here we tell you about this phenomenon of nature. Get to know it and fall in love with his incredible landscapes!
Aljojuca is a municipality in the state of Puebla and is located between the towns of El Seco and Ciudad Serdán. It is 1 hour, 45 minutes from the city of Puebla and 3 hours and a half from Mexico City. There you will find a maar.
The town of Aljojuca
Aljojuca comes from the Nahuatl atl, which means water and a derived word that is xoxohuqui, which translates as color of the sky. The particle "can", is a preposition of the Spanish "en". Therefore, it is translated as "in the blue sky".
During pre-Hispanic times, the Nahuas settled in that area, and to this day, they remain there. People name the area of the water crater in Nahuatl as axalapascos. In the cold season, its blue waters change color to green, due to the combination of minerals and sulfur.
A freshwater maar
Here we explain the reason for this name, which is not a misspelling. A wide and low volcanic crater is designated a maar, which is formed by a phreatic-magmatic eruption. This translates as an explosion caused by the contact of groundwater and the high temperature of lava or magma that also runs below.
The term "maar" comes from the Eifel, a volcanic region in western Germany. It refers to the lakes that occupy craters of ancient volcanoes. In Mexico, one of the largest maar is found in the Pinacate Reserve, in Sonora.
Regularly these craters end up filling with water to form a lagoon or lake and also is the origin to the aquatic fauna that is used by the people in the locality.
In this case, the town of Aljojuca is located in the upper part very close to the lagoon, so we can say that this place has one of the best views in the region, because in the distance the Citlaltépetl also accompanies them, in the Park National Pico de Orizaba.
Architectural beauty in Aljojuca
The main architectural monument is the church of the Parish, built in the 16th century. As well as the Calvario church, whose construction was completed at the beginning of the 19th century where oil paintings dating from 1907 remain.
Source: Mexico Desconocido