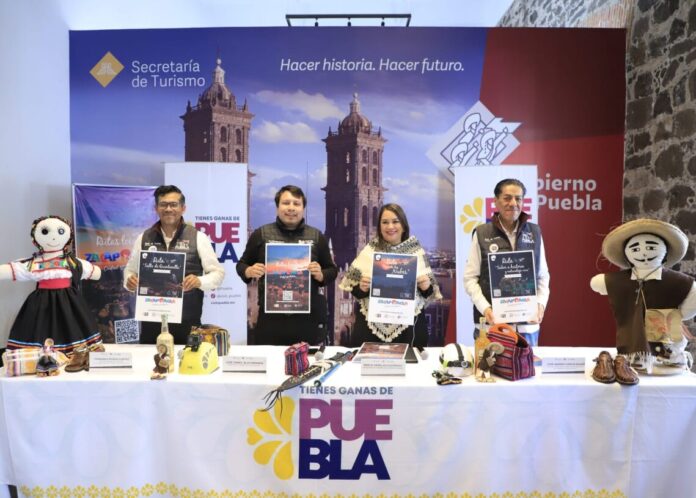 To promote the economic development of all the regions of the entity, the State Government, through the Ministry of Tourism, presented part of the offer of natural and cultural attractions that the municipality of Zacapoaxtla has, specifically three new routes: "Salto de Quintanilla", "Tocando las Nubes" and "Sabor a Historia y Naturaleza Viva (Taste of History and Living Nature)".
The head of the unit, Marta Ornelas Guerrero, assured that by instruction of Governor Sergio Salomón and as a sign of the present and close government, the unit under her charge attends to the promotion requests of all municipalities with a tourist vocation, including Zacapoaxtla; In addition, it offers accompaniment, project feasibility analysis and training to promote its projection.
During his speech, José Daniel Blas Miranda, director of Tourism of Zacapoaxtla, mentioned that, during March, April, May and June, visitors and tourists look for nature destinations, for this reason the waterfalls and trails of Zacapoaxtla have been very attractive, and he stressed as proof that only in 2022, in those months they registered that more than 60 thousand people arrived in the municipality.
Therefore, three tourist routes were established that include hiking to appreciate the Salto de Quintanilla waterfall, a tour of the old Apulco distillery, a visit that includes seven zip lines from Rancho San Gabriel to enjoy the "sea of clouds", in addition to Appreciate the Historic Center of Zacapoaxtla, a site that highlights the history of the municipality and the contribution of its people to the state.
The presentation of the routes was attended by certified guides José Andrés García Basán and Fernando Rivera Cortés, specialists in cultural and adventure tourism, respectively, and who are part of the municipality's register of accredited guides.
Source: El Heraldo de Puebla