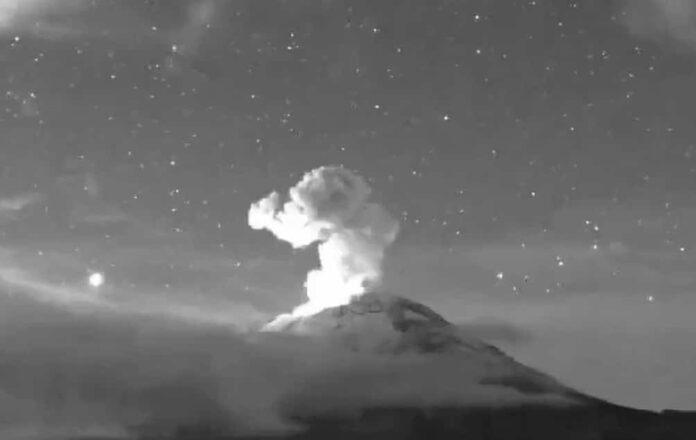 A video broadcast on social networks shows the volcanic activity that Popocatépetl had during the early hours of this Wednesday.
Mexico.- The Popocatépetl volcano once again surprised the Civil Protection authorities during the early hours of this Wednesday, September 21, when an explosion occurred that released ash 800 meters around.
The National Civil Protection Coordination (CNPC) carries out constant 24-hour monitoring of the active volcano to alert the nearby population about the volcanic activity it presents to act in the event of an eruption.
Through its social networks, Civil Protection warned that around 4:48 in the morning, Popocatépetl presented a volcanic eruption that released ash hundreds of meters around.
"At 04:48 an explosion with low #ash content occurred, the height of the column was 800 meters in a southwest direction," CNPC details on its Twitter account.
This eruption caused the yellow alert to be activated in phase two so that the nearby population prepares for a possible evacuation.
At 7:17 a.m. this morning, a second explosion occurred again with behavior similar to that of the morning, so the alert for the population is maintained in addition to the warning not to approach.
Yellow alert phase two
This warning warns the population to remain vigilant and prepare for a possible evacuation due to increased activity, water vapor plume registration, light ashfall in nearby areas and incandescent fragments falling.
The National Center for Disaster Prevention (CENAPRED) monitors and warns every 24 hours about the risks for the population, in its last warning it warned about the constant activity of said volcano.
In the last 24 hours, through the Popocatépetl volcano monitoring systems, 45 exhalations were detected, 8 minutes of tremor.