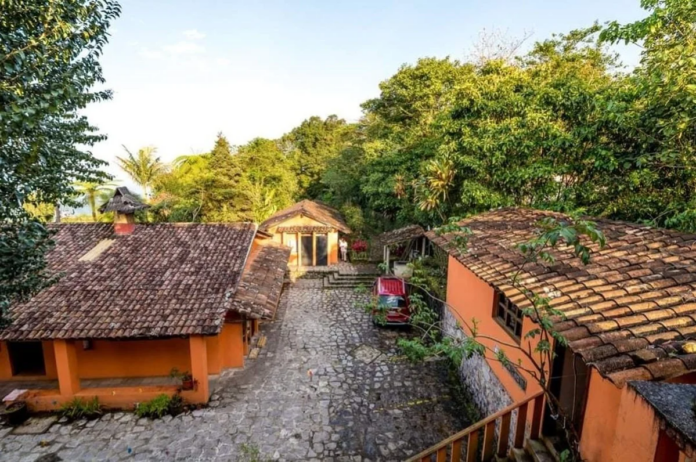 Stay at Taselotzin, a charming ecotourism hotel in the Magical Town of Cuetzalan, with cabins, temazcal, and nature activities.
Cuetzalan del Progreso, in the northern highlands of Puebla, has been a Magical Town since 2002. Its name in Nahuatl is related to the quetzal, a bird with beautiful plumage. It is considered one of the most attractive destinations in Mexico due to its dense vegetation, bathed by waterfalls, pools, and a network of caves that are impressive and which can be explored.
In Cuetzalan ancestral customs are preserved and a large part of its population belongs to indigenous communities. If you want to soak up its rich culture, start by booking a few days at the ecotourism hotel  Taselotzin ( which translates as "sprout").  
Taselotzin was founded in 1995 by Nahua women from the region, with the purpose of enhancing their culture and preserving their environment. In 2001 they received the "Successful Companies Led by Women " award due to their great mission.
This ecotourism hotel in the middle of the forest is the ideal place to relax, get to know amazing landscapes and disconnect from the city. We warn you: their rooms do not have a television, but we promise that you will not need it.
Photo: Facebook Taselotzin Cuetzalan
What to do in this hotel managed by Nahua women
In addition to the natural attractions of the surroundings in the northern mountains of Puebla, you can savor the typical cuisine of the region in its restaurant.
It offers traditional and relaxing massages, ideal to rest your body after a long day of nature activities. Its cost is 450 per person.
Learn about their traditions through talks and workshops. Learn about herbalism during a guided tour of the garden. There are also hand embroidery classes and jonote fiber basketry.

Photo: Facebook Taselotzin Cuetzalan
If you are looking for purification of body and mind, participate in a temazcal ceremony. Its cost is 350 pesos per person or 200 pesos if there are more than 4 people.
If you prefer, you can request a "clean" either with a sweep of herbs (120 pesos per person) or an egg performance (180 pesos per person) to eliminate, it is said, bad energy.

Photo: taselotzin.mex.tl
Outside the hotel, tours are organized with certified guides to explore rivers, caves, pools, waterfalls and attractions within the Magical Town of Cuetzalan.

Photo: taselotzin.mex.tl
How is the Taselotzin ecotourism hotel in Cuetzalan
In Taselotzin you live pure tranquility. The architecture of the ecotourism hotel is rustic and traditional. Its roofs are made of wood and tiles and its walls are made of adobe. Rest in one of its 13 single rooms for 500 pesos per person; rooms for two people, with full bathroom and hot water 24 hours a day, cost 850 pesos. To reserve, you have to give an advance of 50%. 
It has two cabins with fireplace, whirlpool tub, and double beds for up to four people. The rate is 1,900 per night or 1,250 pesos for a room for two people.
If you are looking for cheaper accommodation, Taselotzin has shared dormitories with bunk beds, bathrooms, and showers for 200 pesos per person.
The Adventure package includes a room and a tour to the archaeological site of Yohualichan, some waterfalls or caves for two people for 1,920 pesos. The Temazcal package with accommodation and session for two people costs 1,450 pesos; while the Wellness package, in a cabin for two people with massage included, is 2,205 pesos. All packages include breakfast.
It is recommended to book your visit in advance through WhatsApp or local phone.

Photo: taselotzin.mex.tl
Some of the dishes that you can try at the restaurant are chicken with mole or pipian and little beans with xocoyoli, among others.
It is worth mentioning that the hotel also sells natural and artisanal products such as anti-inflammatory ointments, soaps, syrups, and handmade crafts such as face masks and other garments. 
Walkthrough its cobbled streets that look like fairytale scenarios and the tranquility of its environment. On weekends, a traditional market is held in the main square where pre- Hispanic traditions such as bartering or exchanging local products can be put into practice, avoiding the use of money. A good option to develop your negotiating skills.
After this visit, we recommend you visit the House of Culture of Cuetzalan, an old mansion that currently houses the Calmahuistic Ethnographic Museum where you will learn about the pre-Hispanic history of this Magical Town.
One of the places that you should not miss is the Temple of San Francisco de Asís and observe its imposing tower with more than 60 meters high, one of the highest in all of Puebla. This religious building is popularly known as the Church of the little jars , this is because its decoration highlights a row with the popular clay pots. Cuetzalan is part of one of the most important coffee growing regions in the country. And to delve into the world of local coffee, schedule a visit to the Reserva Azul farm, located just three kilometers from the center of this Magical Town. 
In addition to knowing the process, enjoy the panoramic views offered by its trails and postcards of the Sierra Norte of the country.
Where is the hotel Taselotzin
The Magical Town of Cuetzalan is located about four and a half hours from Mexico City. If you travel by bus from the TAPO Terminal, you will do about six hours. The Taselotzin ecotourism hotel is located about 10 minutes by car from the center of Cuetzalan, on Calle Yoloxóchitl s/n, Barrio de Zacatipan.
Security measures against Covid-19
Concerned about the health and well-being of all visitors, the use of face masks is mandatory in public areas; or a constant process of cleaning and disinfecting the place is also carried out. At the entrance, the temperature is taken and there is antibacterial gel, which you can also find in various places in the hotel.
Contact
Web: Taselotzin.mex.tl
Facebook: Taselotzin Cuetzalan 
WhatsApp: (233) 1032 284 
Phone: (233) 3310 480