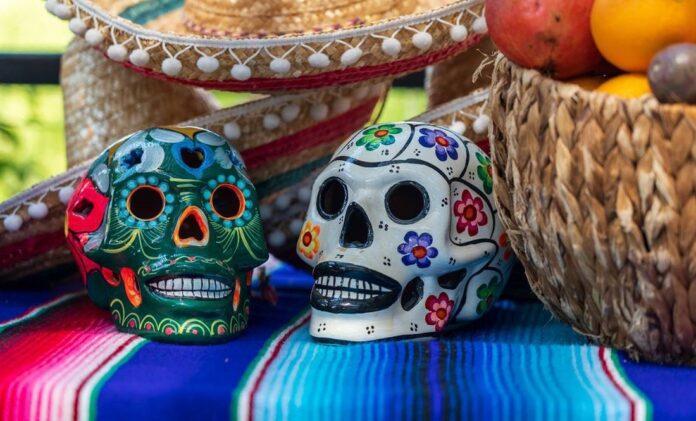 A cooperative society from San Andrés Calpan organizes this event with traditional gastronomy, legends, crafts and other products related to the Day of the Dead.
One of the regions where the Day of the Dead is lived with a special fervor and a lot of color is, without a doubt, Puebla. On the slopes of the legendary volcanoes Popocatépetl and Iztaccíhuatl, there are various small towns with a lot of tradition and options to experience this festivity so characteristic of Mexico.
One of them is San Andrés Calpan, home to temples and viceregal convents, such as that of San Francisco de Asís, declared a World Heritage Site by UNESCO. In that town, the Xolotl Festival is prepared, an event of gastronomy, pre-Hispanic ceremonies, legends, cleansing and other activities. There are already dates, prices and here we tell you what you will find in this little corner of Puebla.
What is the Xolotl Festival?
The Xolotl Festival is organized by the cooperative society Guardianes Saberes y Sabores de Calpan, with more than 10 years of work and struggle to rescue and safeguard the gastronomic and cultural traditions of the Izta-Popo region, particularly in Puebla.
They do this through various activities such as taste laboratories, rural gastronomic tours and festivals, to name a few. Another of them is this festival, a special Day of the Dead event.
This year marks its second edition and, to begin with, San Andrés Calpan will be decorated with colorful cardboard skulls, lanterns, a monumental cantoya balloon, a 'tzompantli', which is an altar where a set of skulls are assembled to honor the gods.
There will be a pre-Hispanic ceremony to bless the 4 cardinal points, as well as a workshop on making bread of the dead, so you can learn how to make it.
In tune with the spirituality and mysticism of the region, 'Nahua Voices' was prepared, a tour of local legends on the occasion of the Day of the Dead. There will also be cleansings and card readings, as well as the sale of crafts and products for offerings.
To try something delicious, they will have a three-course menu, which consists of a Castilla pumpkin cream, tlapaxtamal dipped in mole with chicken or pork accompanied with rice, sweet pumpkin in tacha with ice cream, seasonal water and pot coffee.
Where will the Xolotl Festival be?
It will take place in the San Andrés Calpan community, on the slopes of the Iztaccíhuatl and Popocatépetl volcanoes. The road trip is one hour from Puebla capital, and about 2 hours from CDMX.
The address is Calle San Antonio 3, Barrio de San Antonio, San Andrés Calpan, Puebla.
When will the Xolotl Festival be?
The Xolotl Festival will take place over two weekends in October: October 21, 22, 28 and 29.
Hours: from 12:00 p.m. until 6:30 p.m.
How much does the entrance to the Xolotl Festival cost?
Admission costs $750 pesos per person until October 6; Afterwards, it rises to $850. Includes the three-course menu, water, coffee, pre-Hispanic ceremony, the tour of legends and materials for the bread of the dead workshop.
Contact and reservations
guardianescalpan.mx
Instagram: @guardianescalpan
On Facebook 'Slow Food Guardianes Calpan'
Tel. (55) 4143 3248.
Source: El Universal