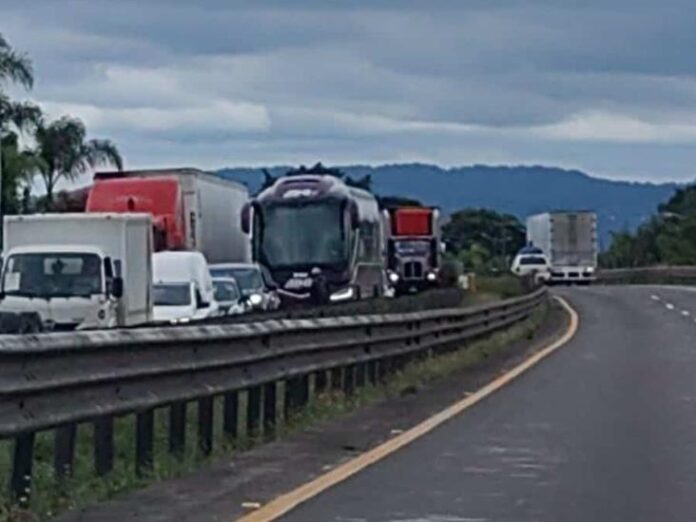 Drivers with license plates from other states visiting Veracruz were extorted by Tránsito 
Due to the landslides that occurred at three points on the 150D highway, the 27 toll booth in Esperanza, Puebla, remains temporarily closed to traffic in both directions, while CAPUFE recommended that motorists and public transport operators seek alternate routes, however, chaos ensued and despite the fact that one lane was reopened to traffic at 11 a.m., traffic in the entire area was collapsed.
There were three landslides that occurred as a result of the rains caused by Tropical Wave 18, two of them in the direction of Córdoba and Veracruz, near the municipality of Nogales and one more in Río Blanco, as well as another in the direction of Puebla.
To free this important road, CAPUFE and National Guard personnel and even some elements of rescue groups in the area have been working in the area since Friday.
Due to the softening of the slopes, this section of the highway remained closed in both directions to prevent any major impact, as there was concern about falling rocks.
Despite CAPUFE's indications to look for alternative routes, the carriers chose to remain on the highway since, according to the drivers, if they come out onto the federal highway, they are immediately stopped by Public Transport and fined or extorted.
Aldo Romero Lezama, AMOTAC delegate in the Orizaba region, commented that permission was requested from the Transit delegations due to this situation and they were allowed the carriers to leave the area of Mendoza, Nogales and Río Blanco at night to join Vicente Guerrero.
However, citizens of Río Blanco pointed out that many private vehicles that left on the Camino Nacional and had license plates from other states were stopped in the center of Río Blanco. 
"I had to see how those from Tránsito were stopping cars that had license plates from other states. They were stopping them in front of the municipality and in front of the former Río Blanco factory," said a citizen.
  Source: Imagen del Golfo