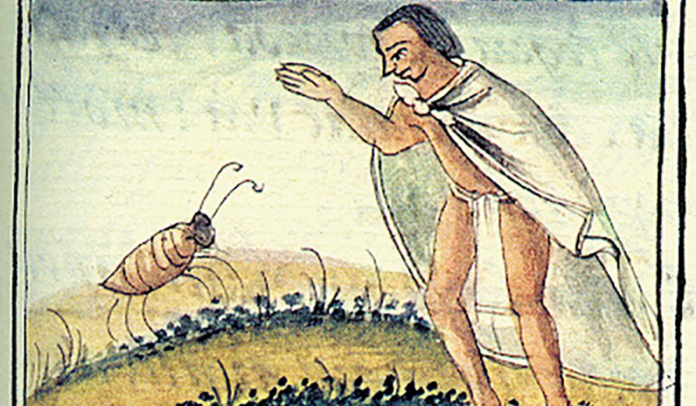 In the Magical Town of Pahuatlán, mole is prepared with Chicatana ants, which give it a unique and delicious flavor for which you pay very well.
We traveled to the Magical Town of Pahuatlán, Puebla, to meet the traditional cook Gema Sánchez, who told us that in the rainy season they have a very unique activity: catching chical or chicatana ants at night, with which they prepare the most expensive mole. of Mexico, but according to them, the richest.
In this Magical Town the ants that they call chícales (or chicatanas in other states) are used and highly appreciated. These can be cooked in a mole that is quite delicious and turns out to be the most expensive in the country, since a quarter of chicales is priced at at least 700 pesos. Their high value is due to the fact that they only come out at night during the rainy season and must be caught one by one.
"The ones that fly are the ones we catch, the ones that stay on the ground are called kites and they are very thin, so they are not used as food."  Alive they throw themselves into the comal, Gema tells us, and at the moment of touching it, their heads and legs are thrown away. They are kept to sell.
The day colloquially called: "chicalear" lasts all night, so it is also very tiring, so they usually stand guard and it is also a time expected by family members to get together.
Without a doubt, it was wonderful to be able to chat with Gema and to agree that Mexico is full of unique and wonderful flavors.
How is this mole made?
1 sardine (measurement used to add the ingredients, usually a can of sardines)
1/4 of chicales
Pork to taste
Tampico green chili
They are ground in a cup of pork broth and Tampico green chili is added. Gema was very emphatic in telling us that no garlic is added to this mole. Then the cooked meat and more broth are added. Its appearance is between dark because of the valuable ants and green because of the chili.
What you should know
This mole is prepared for special occasions such as weddings or baptisms in the region.
Although in Morelos you can also find chical ants, not good for any stew, since due to the type of land they have a certain oil flavor.
The mole is prepared in season but they serve the whole year since they are frozen and that's it
For The Latest Mexico Breaking News, Mexico News in English, Living, Working, Investing, or Retiring in Mexico Please Join and Share our Page Click Here