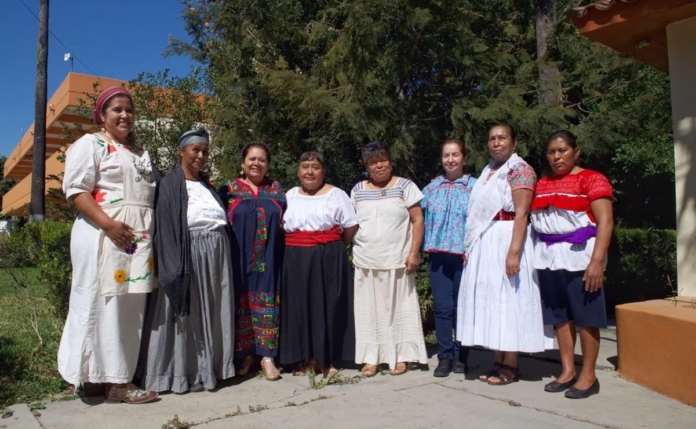 Attendees will enjoy the recipes of nine of the cooks who participate in the book Flavors of Mexico.
Oaxaca de Juárez.- The cultural and culinary wealth of Oaxaca will be the protagonist of Zimatlán Gastronomico, a festival that this year brings together traditional cooks representing the states of Chiapas, Morelos, Puebla, Hidalgo, Veracruz, Guanajuato, Chihuahua, and Querétaro who will merge their knowledge with representative products of the state, including corn, beans, chili, tomato, cocoa, and mezcal.
The meeting, which will take place this weekend in Zimatlán de Álvarez, promotes the techniques of traditional Mexican cuisine and encourages the consumption of local products and non-haggling. The invited cooks will tour this region of the Central Valleys to acquire the ingredients for the preparation of their dishes, highlighted the traditional cook from Oaxaca Juana Amaya and the chef Ovidio Pérez, coordinators of this festival that celebrates its eleventh edition.
The participating kitchens are distinguished by their history and traditions, by their colors, aromas, and flavors of herbs, corn, beans, and chiles; for cooking with heart and soul, in addition to promoting a close relationship with Mexican farmers and producers.
Participants: Ricarda Jiménez Tevera, from Chiapas; Reyna Pérez Vicuña, from Morelos; Victoria Contreras Coyota, from Puebla; Cristina Martínez Cruz, from Hidalgo; Martha Gómez Atzin, from Veracruz; Maria de Lourdes Camarena Razo, from Guanajuato; Juana Amaya Hernandez, from Oaxaca; Tilita Concha Vaca, from Chihuahua and María de los Ángeles Esperanza Pérez, from Querétaro.
The ingredients and culinary techniques of Oaxaca will merge with the knowledge and secrets of traditional cooks who will interpret dishes such as: Wacasis caldín, a recipe that is prepared with beef ribs in tomato broth with tail onion, cabbage, chickpeas and achiote seeds; Huauzontle tamalito with green mole and chilacayote steamed with chichicaste leaves; Mushrooms in sesame seeds prepared with chiltepin chili and pepper leaves.
Encacahuatado with ice mushroom bathed in peanut marinade with tomato and tree chili; Grilled fish cooked with tomato, coriander, and vanilla; Don't forget me recipe made with quail in mezcal sauce, rue, lemon, rattlesnake chili, and green tomato accompanied by beans and nopales; Supreme of chicken in black mole that is prepared with chilhuacle chili, plantain, almonds and peanuts; Sopaipillas that integrates wheat flour and piloncillo honey and prickly pear and garambullo jelly that requires xoconostle, cottage cheese, and milk.
These are ritual, celebration, and daily cooking recipes that traditional cooks have learned from generation to generation and that on this occasion they will prepare with seasonal and Oaxacan ingredients such as chilies, tomatoes and tomatillos; emblematic flavors that will merge with harvest products and chimorete chili and cuchunuc flower from Chiapas; epazote, chilacayote, green pepita, huauzontle and chichicaste from Morelos; the chiltepin and pepper leaves from Puebla and the dried meat, dried chili and wheat flour from Chihuahua.
In this context, Sabores de México was presented, a book that portrays the life story of 32 traditional cooks who represent each of the states of the Mexican Republic, in this regard, Alary Pereyra, director of the School of Gastronomy of the Universidad Autónoma Benito Juárez de Oaxaca, highlighted that the work edited by chef Luis Llanos, in collaboration with researchers, historians, chefs, and journalists, is a sample of the culinary legacy of Mexico, of the dishes and traditions that give identity to each state.
Those attending Zimatlán Gastronomico in Mi Tierra Linda will enjoy the recipes of nine of the cooks who participate in this Fogones MX book, in addition to getting closer to some of the traditions of Oaxaca through the dances of the Oaxacan chinas, calenda monkeys, the marmota, representative band music of the region, various varieties of mezcal, preparations with chocolate and artisan bread.
In addition to positioning itself as an important producer of vegetables, fruits and meats, the state of Oaxaca complies with the healthy distance protocol and is positioned as the Best Gourmet Destination, indicated the Office of Social Communication and Spokesperson of the Government of the State of Oaxaca.