The Electric World Cup returns for the sixth time to the American country, but in a new setting: Puebla. Frijns, leads with five points over De Vries.
While other championships have been forced to give up racing in America, where the data of the COVID pandemic continues to be very worrying, especially in the south of the continent, Formula E will compete in Mexico this weekend. It will be the sixth time I have done it (it is already the most visited country next to Germany), more than a month after the last appointment in Monaco and in unknown territory. Because he will not go to the usual stage, the Autódromo Hermanos Rodríguez in the capital, but to Puebla.
The fourth largest city in Mexico, with 3,250,000 inhabitants, welcomes the Electric World Cup with wide open arms because it is the first international event in 12 years that it will host the Miguel E. Abed Autodrome on its circuit. Built in 1985 and renovated in 2005 to be certified by the FIA ​​(the second Mexican track to achieve it after Hermanos Rodríguez), it has previously held World Touring Car races and the Mexican Nascar and now the FE has put it back. in the map.
With the Popocatepetl volcano, one of the 12 active in Mexico, as a backdrop 60 kilometers away, the circuit will use its 2.98 kilometer version that draws a route through the interior of its oval in the style of Indianapolis, for example. In addition to being one of the few conventional tracks that FE visits, in its 15 curves it will present interesting challenges such as a camber that runs through part of the oval and the 'Attack Mode' area, in which you have to abandon the line as if it were fulfilled a long lap of MotoGP.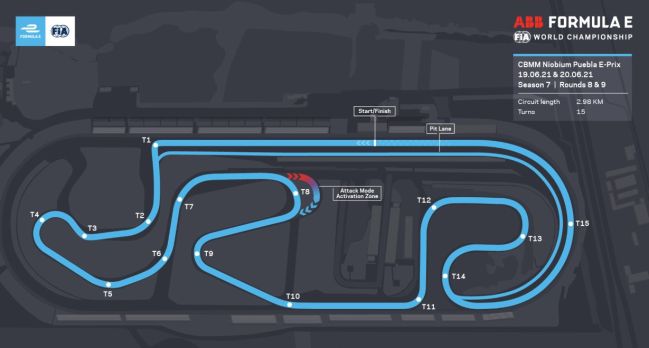 Frijns leads the World Cup
The previous ePrix in Monaco left the sixth different winner of the season in seven races, Da Costa, and a new leader, Frijns. The Dutchman from Virgin commands the World Cup five points above his compatriot De Vries, eight from Evans and ten from the Portuguese from DS. And there are five more riders in distance of a race (25 points), so everything is still as contested as usual with eight races ahead, starting with two in Puebla (Saturday and Sunday, 23:00 Spanish time) with which they will make the always passionate Mexican fans vibrate again.
Source: as.com