Who is "El Fede" and why is he being investigated in Puebla?
The street vendor leader is singled out for walking with his bodyguards with firearms through the streets he overlooks
Sources close to the Secretary of Public Security of the State announced that Federico N, alias "El Fede", leader of the street vendor organization "Fuerza 2000", as well as members of the organization "11 de Marzo" is being investigated; Both sides in recent days have staged disputes over spaces, but also over control of the plaza for the sale of drugs, extortion, and collections from businesses.
The source added that despite the fact that "El Fede" has an arrest warrant for homicide, he continues to lead said organization of informal merchants and even walks with his bodyguards with firearms through the streets he dominates, which are from the 14 to 22 Poniente, between 5 de Mayo 5 and 7 Norte.
Federico N, also known as "El F1", has been detained three times, however, he has been released. The first time he was arrested was in November 2016 for the crime of attempted murder, after he participated in a fight on July 2 of that year on 11 Norte and 6 Poniente, in the La Raza market, however, In April 2018, he was released after the crime of which he was accused was reclassified.
Without paying reparation for the damage or a fine, "El Fede" left prison, but a month later, in the early morning of May 11, he was again arrested by the Municipal Police of Puebla after fleeing a breathalyzer checkpoint in the Los Sapos neighborhood; on that occasion, he was about to run over a transito police.
That time he only faced an administrative offense and was presented before the qualifying court, who only imposed a fine on him.
On June 24, 2019, he was again apprehended by ministerial agents of the State Attorney General's Office when he was driving his vehicle on 31 Poniente and 7 Sur in the Chulavista neighborhood; He was charged with injuries and attempted murder for allegedly having shot a man in the Historic Center.
For unknown reasons, he was released shortly afterwards and is now on the streets again.
According to sources close to the intelligence area of ​​the SSP, he engages in drug dealing, extortion of merchants, and with his "people" he charges the right of way to public transport drivers who circulate on 9 North, between the streets of 12 to 18 Poniente.
He is also accused of having appropriated at least three houses to turn them into drug stores; one of them is called "Maldita Vecindad", located on 3 Norte between 8 and 10 Poniente; another is the "Nueva Maldita Vecindad" of 14 Poniente and 11 Norte. In these last two, various operations have already been carried out against drug dealing and one more on 22 Poniente and 5 Norte, in the El Refugio neighborhood.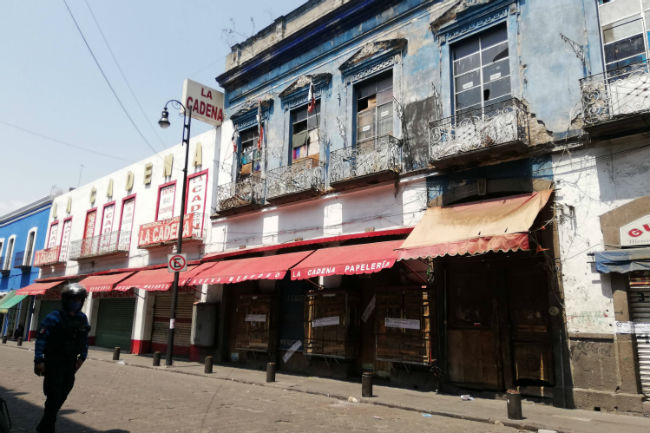 Last Wednesday the SSP managed to capture one of the men closest to "El Fede", Pablo alias "El Pablito" and/or "El Contador", who allegedly was engaged in collecting extortion money from merchants and had in his power various doses of apparent crystal.
Although intelligence personnel from the SSP have tried to enter the area of ​​16 Poniente and 5 Norte to capture El Fede, merchants led by the aforementioned comadre, Silvia N, have hindered their work and blamed the leader of the " March 11 ", Martín N, of harassing them, but he too has already dissociated himself from those actions and even, according to the source consulted, revealed that he has received calls from Federico and another subject nicknamed" El Negro ", where they threaten him with death to leave the space it occupies with its 180 members, as Alicia N and Margarito did at the time, who were forced to flee by "El Fede".
War of street organizations for the Center, while Segom only watches them
The organizations Fuerza 2000 and 11 de Marzo initiated a war for control of the Historic Center, since in the face of the inefficiency of the City Council to control commerce on public roads, its leaders, Federico López and Martín Juárez, respectively, threatened merchants and sex workers, seek to take over the streets of the city.
The streets that both organizations are fighting to control the ambulance are May 5, as well as 3, 5, and 7 North from 4 Poniente to 18 Poniente, according to sources consulted by CAMBIO.
This led to the two groups meeting last Wednesday on Calle 5 Norte and Calle 14 Poniente because the Fuerza 2000 group, led by Federico López, 'El Fede', accused that Marín Juárez, who heads March 11, tried to To give them the right to the floor, which generated a confrontation that escalated to the detonation of a firearm.
For this reason, yesterday the group Fuerza 2000 under the slogans "Fede, friend, the people are with you!" and "Out with Martín Juárez!" they demonstrated on 5 de Mayo Street in the Historic Center and later in the Municipal Palace until they reached Casa Aguayo, where they demanded security from the threats of extortion.
Fede wants to take over the entire Center
In an interview with CAMBIO, the leader of the March 11, Martín Juárez, declared that his group had carried out the firearm detonations last Wednesday, for which he blamed the children of 'Irene', leader of the group 19 of September, which generated a fight among merchants.
The merchant mentioned that said dispute was organized by 'El Fede', who seeks to take over the streets of the Historic Center by ensuring that leaders such as Carlos Ramírez, who is located at 6 Poniente and 5 de Mayo Street, have already been imposed, as well as 'Las Pechugas'.
"Federico has been ambitious, he already wants to buy in all the streets, this person began to charge for his spaces and told people that he was the owner, he has done it with Carlos Ramírez of the 5 de Mayo, with the Pechugas, with Alejandra Leyva, he couldn't with her, (…) Irene's children got in, who fired the shots with the assumption that the March 11 organization was present. No, we have gotten in there, Irene is the one from September 19 ", he said.
The streets of El Fede,  controls almost a thousand street vendors
Sources close to CAMBIO announced that the streets belonging to the Fuerza 2000 group are from 12 Poniente to 18 Poniente on 5 Norte Street, in addition to 8 Poniente between 3 and 7 Norte; 5 de Mayo street between 4 and 6 Poniente.
While the March 11 group is located from 8 Poniente to 12 on 3 Norte Street; side of 10 Poniente between 3 and 5 Norte and 5 de Mayo Street.
Street vendors only extort sex workers in their area
Likewise, this publishing house was informed that sex workers only pay floor fees in the areas that are occupied by March 11 and Fuerza 2000, from the corner of 3 Norte and 4 Poniente, while sex workers that are located in The 4 Poniente park does not pay fees.
Force 2000, more mobile than March 11
According to the last census carried out by the Municipal Government Secretariat (Segom), which was carried out in December 2018, it indicates that Fuerza 2000, led by Federico López Flores, has 935 informal workers located in the 18 Poniente, 10 Poniente, 8 Poniente, 16 Poniente, and 5 Norte, and its main trade is vegetables.
While the group 11 de Marzo has 140 street vendors, located in 10 Poniente, 3 Norte and 5 Norte; its main line of business is the illegal sale of cigarettes and clothing.
Segom is silent before a lawsuit by street vendors
Despite the conflict between the two groups, the head of Segom, Rene Sánchez Galindo, revealed to an express question that at the moment Segom "will not have a position on the matter."
Both leaders are criminals: Barbosa
According to journalistic notes, both Martín Juárez and Federico López have been related to illegal acts, which led to Governor Miguel Barbosa Huerta to order an investigation against them.
Federico López has set foot in jail three times after being accused of the crimes of extortion, as well as attempted murder and injuries.
As for Martín Juárez, he has been linked to drug dealing, the sale of adulterated alcohol, and extortion because he is linked to Lorenzo N, alias el 'Márgaro', former leader of the group. He is also linked to the protection of the band 'La bolita', pickpockets, and chain men who used the property known as La Maldita Vecindad as a hideout.
Source: leviatan.mx, diariocambio.com.mx, elsoldepuebla.com.mx