The city of Puebla de Los Ángeles, located in the state of the same name, is one of Mexico's most popular tourist destinations, not least because of its delicious culinary heritage, breathtaking colonial architecture, and convenient location a few hours south of Mexico City. Even UNESCO has recognized its cultural value.
Places to have coffee or a cocktail, but also to eat, are in the city of Puebla as a terrace.
In Puebla, there are multiple places that have a terrace, where you can spend pleasant moments as a couple, but also with family and friends.
Some of the terraces in the city are the following.
1. Azul Talavera Hotel – Rooftop Bar
This hotel is located on Calle 10 Norte # 1402, between Avenida 14 Oriente and 18 Oriente. It has a bar on the terrace where you can see the Popocatépetl and Iztaccíhuatl volcanoes, as well as the Puebla Cathedral.
The gastronomic offer includes Mexican tapas and cold meats, as well as cocktails. You can check the costs here .
The hours are from Monday to Sunday from 12:00 pm to 8:00 pm
2. Amparo Museum – Coffee
When visiting the Amparo Museum, located on Calle 2 Sur # 708 in the Historic Center, between Avenidas 7 and 9 Oriente, you can take advantage of and access the coffee they have on the terrace.
It has a schedule from Wednesday to Monday from 9:15 pm to 6:00 pm Although Friday and Saturday they extend their hours until 10:00 pm
3. Hotel Casa Rosa – Attic 303
With a view of the Puebla Cathedral, Áttico 303 offers restaurant service. It is located on Calle 16 de Septiembre # 303 in the Historic Center of Puebla, between Calle 3 and 5 Oriente.
4. La Cúpula
It lives up to its name since the terrace of this restaurant is covered with a dome at the same height and dimension as the Puebla Cathedral.
It is located on Calle 3 Sur # 1501, between Avenidas 15 and 17 Poniente.
5. Hotel La Purificadora – Bar
They have a minimalist-lounge style, and on the terrace is the pool, jacuzzi, sauna, gym area, but also the bar where they also offer Mexican food.
It is located in Paseo de San Francisco, Callejón de la 10 Norte # 802, Barrio del Alto,
Hours are Monday through Friday from 2:00 pm to 11:30 pm
Explore a volcano – inside or out!
If you're feeling adventurous, or want to take the path less traveled on your next visit to Puebla, the obvious option is to go explore some volcanoes. Puebla boasts a location that's just a stone's throw away from the famed twin volcanoes of Mexico; Iztaccíhuatl and Popocatépetl. While the latter is off-limits to visitors, due to a 1994 eruption, the former still makes for a great climbing or sight-seeing option. Equally, step inside the Cuexcomate geiser instead. You never know, you might even see some UFOs…
Cuexcomate Geiser, Libertad, Puebla, Puebla, México
Indulge your sweet tooth on the Calle de los Dulces
Besides mole poblano and the seasonal delight that is a chile en nogada, Puebla is also well known for producing some delicious sugary treats too. The best place for those of you with a sweet tooth to sample all the culinary specialties this city has to offer is the so-called Calle de los Dulces (Sweet Street). Also known as La Calle de Santa Clara, make sure to try out some of the region's most representative candies – camote, muégano, and las tortitas de Santa Clara.
Calle de los Dulces, 6 Oriente, entre 5 de Mayo y 4 Norte. Centro, Puebla, Puebla, México
Get a different perspective on the city
If you're tired of traipsing the artisanal-store lined streets of Puebla, why not get a new perspective of the colonial city by taking a ride in its teleférico, or cable car. The 680-meter journey suspends you above the city so you can truly take in all its breathtaking views in one go. If dangling from a wire doesn't float your boat though, take a ride on the Estrella de Puebla, an 80-meter high Ferris wheel that offers spectacular views of Izta and Popo.
Teleférico, Unidad Cívica 5 de Mayo, Centro, Puebla, Puebla, México, +52 222 122 1100
Estrella de Puebla, Osa Mayor 2520, Reserva Territorial Atlixcáyotl, Centros Comerciales Desarrollo Atlixcayotl, Puebla, Puebla, México, +52 222 223 6430
Admire some unusual architecture
While Puebla is principally known as one of the best architectural destinations in Mexico, it also has a smattering of slightly more unusually decorated buildings that are worth taking a look at. The first is the Talavera tiled Casa de Los Muñecos, although if you're into beautifully tiled buildings, make sure to stop by Casa del Alfeñique too. For Baroque fans, the Capilla del Rosario is a must-see, as is the Iglesia de la Compañía de Jesús. However, for something more modern, head to the Ricardo Legorreta designed La Purificadora hotel.
Casa de los Muñecos, Centro, Puebla, Puebla, México, +52 222 246 2899
Casa del Anfeñique, Av. 4 Oriente No.416, Centro Histórico, Puebla, Puebla, México, +52 222 232 0458
Capilla del Rosario, Calle 5 de Mayo, Centro, Puebla, Puebla, México
Iglesia de la Compañía de Jesús, Calle 4 Sur 2, Centro, Puebla, Puebla, México, +52 222 232 2375
La Purificadora, Callejon de la 10 Norte 802, Paseo San Francisco, Barrio El Alto, Puebla, Puebla, México, +52 222 309 1920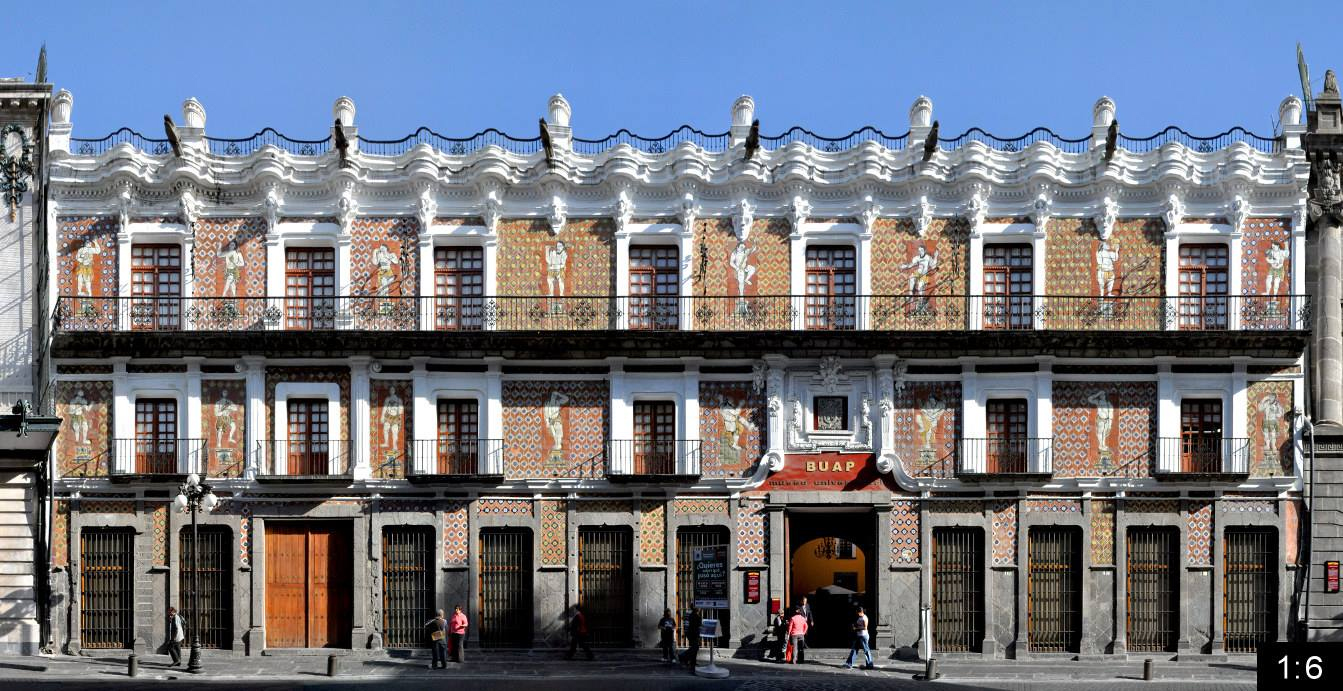 Visit Museo Amparo
Art lovers, particularly those interested in Mexican art, cannot pass up the opportunity to pay a visit to Museo Amparo when in Puebla. Within the duo of colonial buildings is housed one of the finest collections of Mexican art in Latin America – and entry is free. First opened in 1991, the museum now houses everything from pre-Hispanic art to modern-day pieces. Don't forget to head to the terrace either, as from there you can admire an enchanting vista over the city.
Museo Amparo, Avenida 2 Sur 708, Centro, Puebla, Puebla, México, +52 222 229 3850
Try out some of the local drinks
As well as food, Puebla is the home of many fantastic drinks more or less exclusive to the state. You could knock back a Mexican mojito, also known as a menjul, or dare to try a pasita, a popular liqueur made from a local, raisin-esque fruit. If the idea of a liquid raisin shot doesn't appeal, instead enjoy a much more palatable Rompope (basically, alcoholic eggnog). For both of the aforementioned drinks, the auspiciously named La Pasita comes highly recommended.
La Pasita, Avenida 5 Oriente 602, Centro, Puebla, Pueble, México, +52 222 232 4422
Try the mole poblano for which Puebla is famous
You simply cannot visit Puebla without trying out some of its famed mole poblano. This rich, thick, chili-chocolate flavor sauce, typically served with rice and meat, is the national dish of Mexico, and where better place to try it than in the place from which it originates? Either try it at a restaurant or buy the ingredients to make it yourself from Mercado el Carmen. If mole doesn't do it for you, then perhaps Puebla's signature sandwich-like dish cemita will, or even a purple quesadilla from Mercado de Cholula?
Mercado el Carmen, Entre Av. 2 Sur y Calle 4 Sur, Av 21 Oriente 215, El Carmen, Puebla, Puebla, México, +52 222 240 2178
Mercado de Cholula, Miguel Hidalgo 310, Barrio de San Juan Calvario, De San Juan Calvario, Puebla, México
Take photos of the murals in Xanenetla
Xanenetla, considered Puebla's youngest neighbourhood, is also one of its most vibrant and makes for an excellent escape if you're more interested in street art than colonial architecture. Once known for being fairly unsafe, street art projects have breathed new life into the barrio, making it a viable destination for the artsy traveller. Cobbled streets and around 55 colourful, full-wall sized murals await you in this quirky corner of Puebla City.
Xanenetla, Puebla, Puebla, México
Pay a visit to the Cerro de Loreto y Guadalupe
Many people confuse Cinco de Mayo for Mexican Independence Day (that honor actually falls to September 16th); however, one state in Mexico does celebrate that day and that state is Puebla. On May 5th, 1862, Ignacio Zaragoza and his troops defeated the attacking French army on the Cerro de Loreto y Guadalupe; to this day you can explore the old military stronghold which is now home to a museum rather than an army. The view from the Fuertes de Loreto y Guadalupe is spectacular too.
Fuertes de Loreto y Guadalupe, Ejércitos de Oriente S/N, Los Fuertes, Puebla, Puebla, México, +52 222 234 8513
Visit one of Mexico's most beautiful cathedrals
Situated, as with most of Mexico's cathedrals, right on the city's main square, the Catedral de Puebla makes for an unmissable sightseeing opportunity. Widely considered to be one of the country's best, this enormous edifice was constructed in 1575 and has a tiled dome roof inspired by St. Peter's Basilica. Famed sculptor Manuel Tolsá is the brains behind its impressive principal altar, too.
Catedral de Puebla, C. 16 de Septiembre s/n, Centro, Puebla, Puebla, México, +52 222 232 3803
Browse the antiques on Callejon Los Sapos
Callejón de Los Sapos, translated to Frog Alley, is a treasure-trove of antique dealers, artisanal vendors, and furniture hawkers. Every Sunday, the length of this callejón transforms into a vibrant destination where you can enjoy the fresh air and the atmosphere all at the same time. Pick up some Talavera pottery or some vintage movie paraphernalia to take home as a colorful souvenir of your time in Puebla.
Callejón de los Sapos, Calle 6 Sur 309, Centro, Puebla, Puebla, México, +52 222 435 5125
Visit the Biblioteca Palafoxiana
Biblioteca Palafoxiana | Biblioteca Palafoxiana Our final entry comes in the form of one of the country's, if not the continent's, finest libraries. The Biblioteca Palafoxiana is situated within Puebla's Casa de la Cultura and is more than worth a visit if you're a bibliophile. In fact, we'd even recommend it for the casual culture fiend. Housing over 43,000 works, this library was the first public library in Mexico and many even claim it was the first in the Americas.
Source: poblanerias.com, visitpuebla.mx, theculturetrip.com